Medino – YOUR PARTNER FOR MEDICAL
Competent and reliable support and advise for over 35 years, hospitals and clinics in Europe, Asia and the Middle East.
Our medical products, tools and systems that enable a simplified and safe work in the operating room and sterilization, optimize the use of qualified personnel and provide high safety for patients and staff. We know how to face the economic requirements. With the use our products you save costs without sacrificing high quality and performance.
IN FOCUS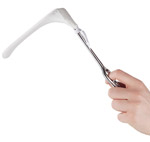 RETRACTOR COVERS
The patented opening and fastening allows the user to attach the cover securely and quickly to the retractor and fix. The patented flexibility also makes it possible to obtain a reference to all major retractor and also on retractors, which belong to a Wundspreizsystem and possibly even move. They can be mounted individually so that the cover can be used anywhere.
Read more